Bonus Room Comfort Solution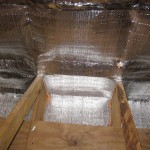 Don't be confused about radiant barriers. If you have high-bills and comfort problems, you don't need radiant barrier. There are plenty of folks and products that aim to reduce the temperature of the attic. What we do is air-seal and protect your wall insulation from the attic so that in a way, it doesn't matter how hot or cold your attic is. We only install radiant barrier to protect, align, and encapsulate the insulation, or as an air-or vapor barrier. Here are some photos of a recent Attic Renovation that solved constant comfort issues in a North Raleigh Home. Our radiant barrier is used as an air-barrier. The job required adding 40 new 2×4's (one at the top and bottom of each knee-wall "cavity") as seen here:
1913 Bonus Room Blocking and Air-Sealing with PRODEX RADIANT BARRIER












This homeowner noticed an immediate and drastic improvement in comfort and reduction in garage noise entering the home.
Our RADIANT BARRIER is insulated, consisting of closed cell foam (not bubble wrap like you can get at Lowes) with Reflective Metal and plastic on both sides. We use it because it is tough, rigid yet flexible, and can be easily stapled to framing. But remember, the purpose is air-sealing! In the above circumstances, this solution would not have worked without the new "Top and Bottom Plates". If you have attic walls in your home can you tell if they have top-plates and bottom plates? This solution would also not have worked if we did not seal the lower tail of the insulated air-barrier to the drywall of the garage/master bedroom below. It would not have worked if we did not foam all the little gaps and tape the seems. For this kind of framing you can used a finish nailer with long finish nails rather than a framing nailer which might not fit into these really tight spaces. We would not have been able to stretch the Radiant Barrier over the R-19 wall insulation if the material was thin, paper based radiant barrier. (Update, we have begun folding the prodex over the missing top-plate to create a top-plate and the results are good.)

HERE IS ANOTHER BONUS ROOM COMFORT SOLUTION
… ON A RANCH HOME with a BONUS ROOM
Bonus Room Comfort Solution 2









Various Prodex Applications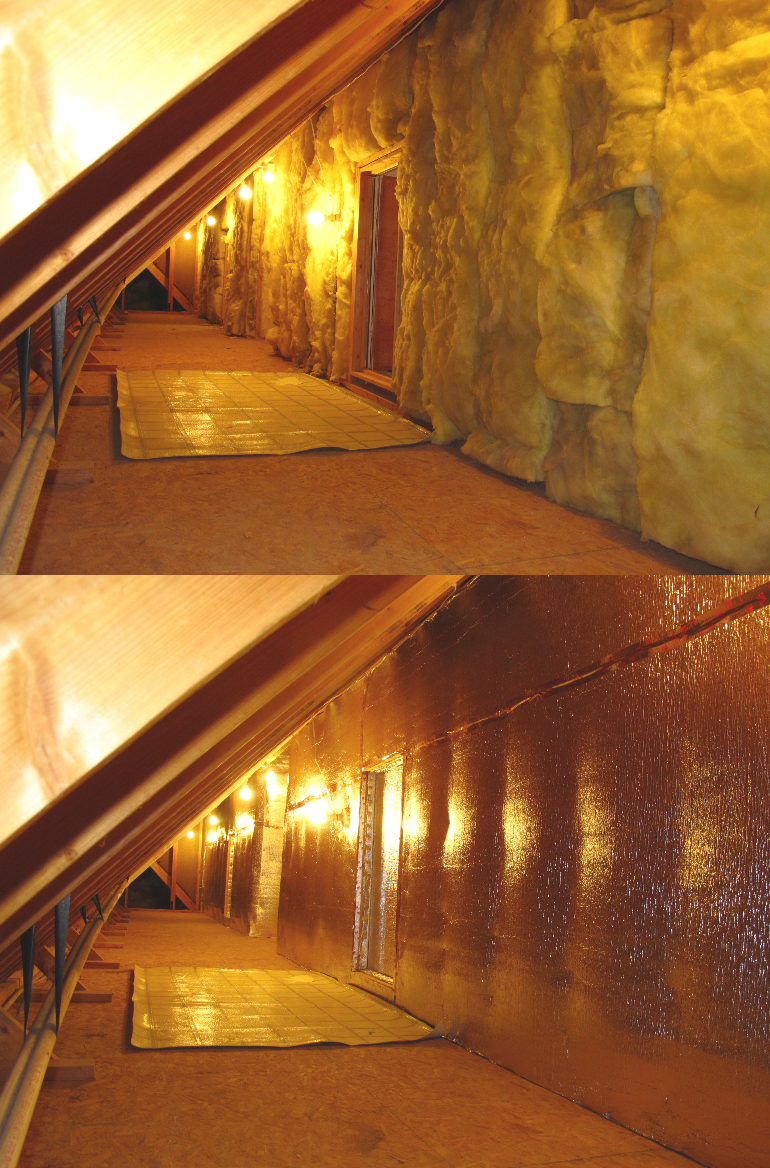 Some homes have no "attic-walls", some have lots. Some have 3rd floors instead of bonus rooms, some have trusses, others are stick built, either way, when we provide our "Bonus Room Comfort Solution", we also provide a complete package of Attic-Air-Sealing so that no low-hanging fruit is left behind.
Attic Air-Sealing is Included!