Hinson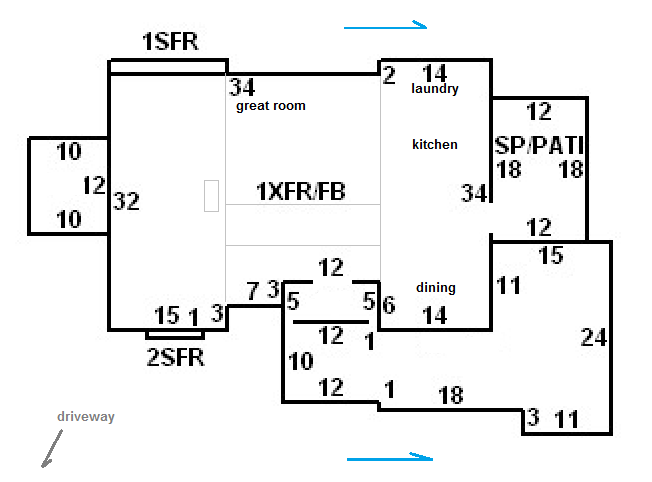 [Not a valid template]
DONE! Attic Duct Sealing Obvious Air-Sealing Complete!

Thanks!
Remaining Lowest hanging fruit, followed by higher hanging fruit.
0) In the Attic – Install Lights and Make Electrical Upgrades? Who wants to make the attic a poster-child of efficiency?! Who wants the pictures to turn out Awesome?! Me! You! ($300 to $600+)
1) Execute Bonus Room Comfort Solution – Start by removing insulation from attic wall due to the inset stapling that was used during installation which resulted in a wide and consistent gap between the drywall and insulation itself. Some air-sealing will be done with the insulation removed. Re-Install the Insulation so that is is in full contact with the drywall, and use additional R13 insulation to fill in the gaps where the insulation is too short or missing. Install Framing as needed for PRODEX Insulation.  Our Firm Quote is $1800 TURN-KEY Includes All Attic Air-Sealing and a General Clean-Up.
FYI: (Times have changed since your home was built, even CertainTeed and Fine Homebuilding had it wrong in 1998: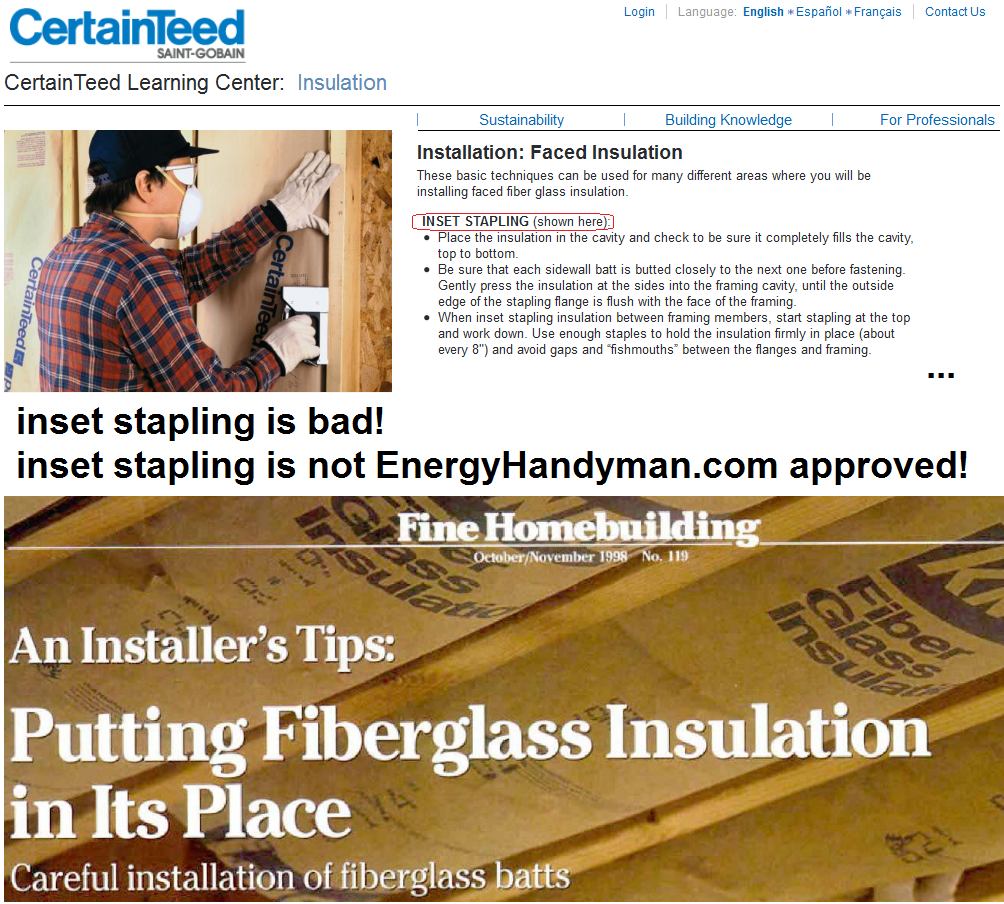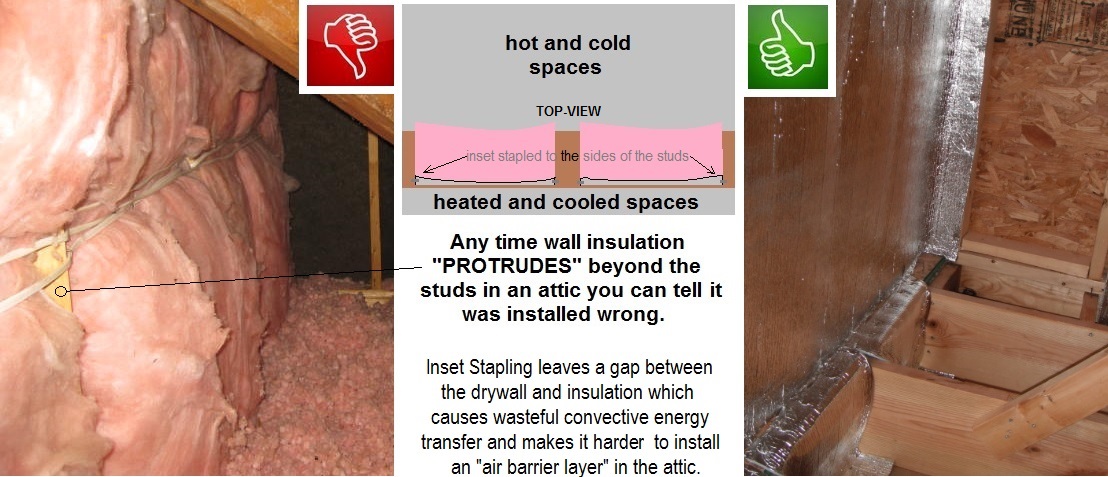 Please visit this post to get more information about the proposed solution for your attic walls. Whatever your situation, we can get it tight and wrapped, and clean. … aka the Bonus Room Comfort Solution…
2) Prepare for Additional insulation. This item is complicated. The attic is under-insulated. Various issues need to be resolved prior to insulating the attic[otherwise the attic naturally becomes rather dangerous and harder to take care of]. Currently the ceiling joists are exposed and visible to work on, 1″ x 4″  "walk-boards" nailed throughout the attic to facilitate you. As far as an attic is concerned there is pretty good space, for now. Thinking long term, there are many steps to consider, but ideally:
2a)Further Explanation of Electrical Suggestions: Two ways to do it… 1) By a licensed electrician for ~$75 per device. Estimated: 6 Keyless Lamp-Holders, a "Spare-Load-Box" (planting a seed for future ventilation, etc), and a spare GFI outlet. 8 Devices = $600 Highly Recommended! Otherwise, SHS can install Temporary Lighting, which can either be removed after the job, or purchased, at a cost of roughly 1/2 or $300 and would result in 10 Caged Fixtures on a 12 gauge (yellow) wire with 75w equivCFLs and would be plugged into an existing keyless lamp-holder, same switch, pretty simple, but still looks temporary. I will defer to my electrician for anything more detailed than this, and we should not forget to move aggressively in the direction of CREE Lighting as discussed.
2B) Perform Detailed Air-Sealing, Strategic Air-Sealing, Re-Work the Ladder Door with Gasket and Prodex, and optional weighted cover. Plant seeds for the future: Remove old Walk-Boards, Remove old Decking around the HVAC equipment, Do Air-Sealing Under the old decking which is currently impossible to access, Replace old Can-Lights.
2c) Install Baffles for the perimeter to keep the insulation away from the ventilation channels, install dams to keep the insulation out of the access opening during access. Install Dams around the Duct-Work, which in some time may warrant full replacement. Our other option is to completely cover the duct-work with insulation? Install Walking Platforms throughout the attic so that the attic is still navigable without tromping through the insulation and returning to the home filthy.
3) Insulate: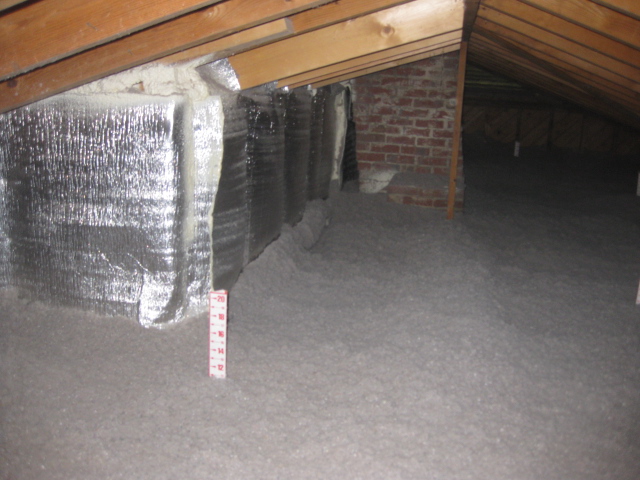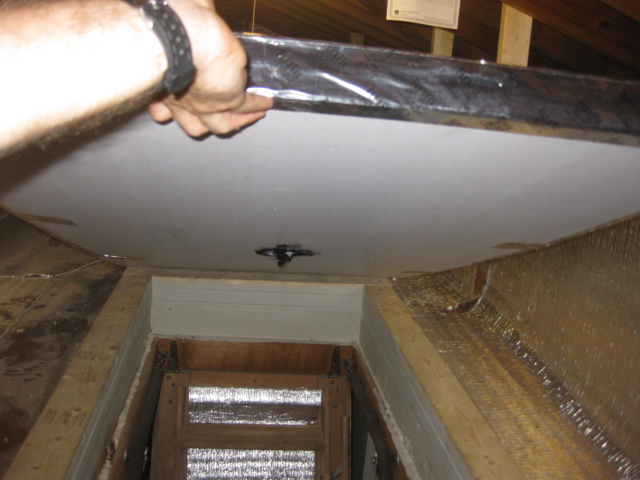 More to come, but that is all for now…
Adam S