Sealed Crawlspace Warranty and Humidity Guarantee
If you purchase a Sealed Crawlspace from Stetten Home Services we provide a lifetime guarantee that all aspects of the sealed crawlspace service will continue to perform as intended. If the device, system, material, or workmanship fails we will resolve it for free and within a 3-week period of your photo-documented notice to us. This warranty is only available to the original purchaser. Our warranty is transferable to the next owner for $150. If you complete our work at the time of sale we will waive this fee. We warranty electronic devices for only 1 year from the date of completion or purchase.
Because we want our sealed-vapor-barriers to last the life of the building, we work hard to rake, flatten, and smooth-out the ground surface. We work hard to make the vapor-barrier tight, and smooth. We prefer to fasten it and adhere it near the bottom of the foundation walls and piers so that it doesn't move, slide, or get damaged by normal access / wear and tear. We will return with additional tape, plastic, expanding foam and expert skilled workers to repair any damage due to NORMAL WEAR & TEAR.
If we missed something we will return to resolve the issue free of charge. For example, missing tape on a seam, missing foam behind the plastic or around a penetration. We leave behind as a gift extra pieces of our heavy duty plastic vapor barrier and extra tape whenever possible so that wear and tear can be dealt with consistently & strategically. We do not move "equipment" like water-heaters, well-tanks, furnaces… to install our liners. If we taped the liner to the base of any equipment, please utilize the extra materials we provided under the new equipment and tape it all up nice and tight when your appliance croaks.
What is NOT covered under the warranty provided by Stetten Home Services?
Pest damage and carelessness are not warrantied. If a careless contractor or occupant causes damage you will have to pay to resolve that damage and then you can back-charge as you wish. There is generally a minimum of $300 for service trips that involve cleaning up after flooding, water-intrusion, racoon damage, or anything else that happens other than normal wear and tear.
Your wireless monitor is not warrantied at all. These devices are finicky electrical devices with antennas, channels, batteries that leak, they get dropped on the ground from time to time… Call us and we will help you procure a suitable humidity monitor replacement if you can't or we can sell you one. We stock them. We may have extra parts lying around if you lost the base or battery door. Your dehumidifier, booster-fan, controller, or whatever electronic devices you now own, other that the monitor, are warrantied for 1 year after our service is complete. We want to help you no matter what but we want you to take responsibility for the monitor.
Standing water in your crawlspace is not a defect and is not covered. We began doing sealed crawlspaces slowly in 2007. We have returned to many of our crawlspaces from the beginning to learn. An 8 year old sealed crawlspace with annual or bi-annual hvac / plumbing service will have some minor holes and rips in the plastic, there may even be evidence of water puddles due to elevated water table during/after storms. There may be plumbing leaks, water-proofing failure, gutter-overflow, the door might get left open, and there might be puddles throughout the crawlspace. This does not mean the sealed vapor barrier failed and any action we take to help resolve is not covered under our warranty.
If you forgo recommended additional ground flattening or soils removal or re-distribution, you completely forgo the opportunity for a guarantee on the vapor barrier.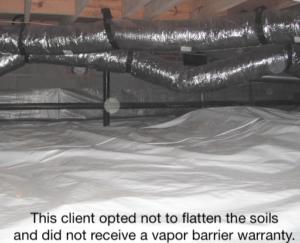 HUMIDITY GUARANTEE
We provide a humidity guarantee when there is no standing water in the crawlspace.
We use this chart to "enforce" our "HUMIDITY GUARANTEE":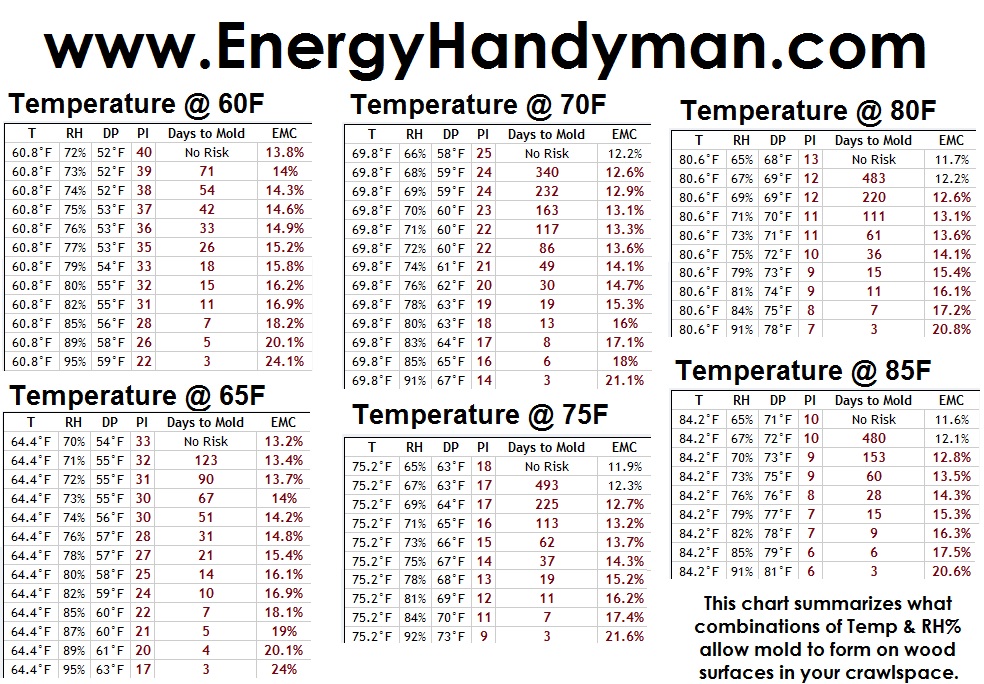 This chart is derived from DPCalc.org focusing only on the expected temperature range of sealed crawlspaces in North Carolina. We didn't calculate the "days to mold" or any of the numbers on the chart. They aren't up for debate. Wood has been behaving the same way for a long time and we know about as much as we will ever know about how wood products react to humidity and temperature.
The chart is useless without a wireless humidity monitor like this one: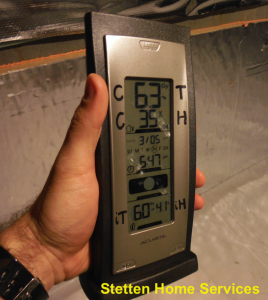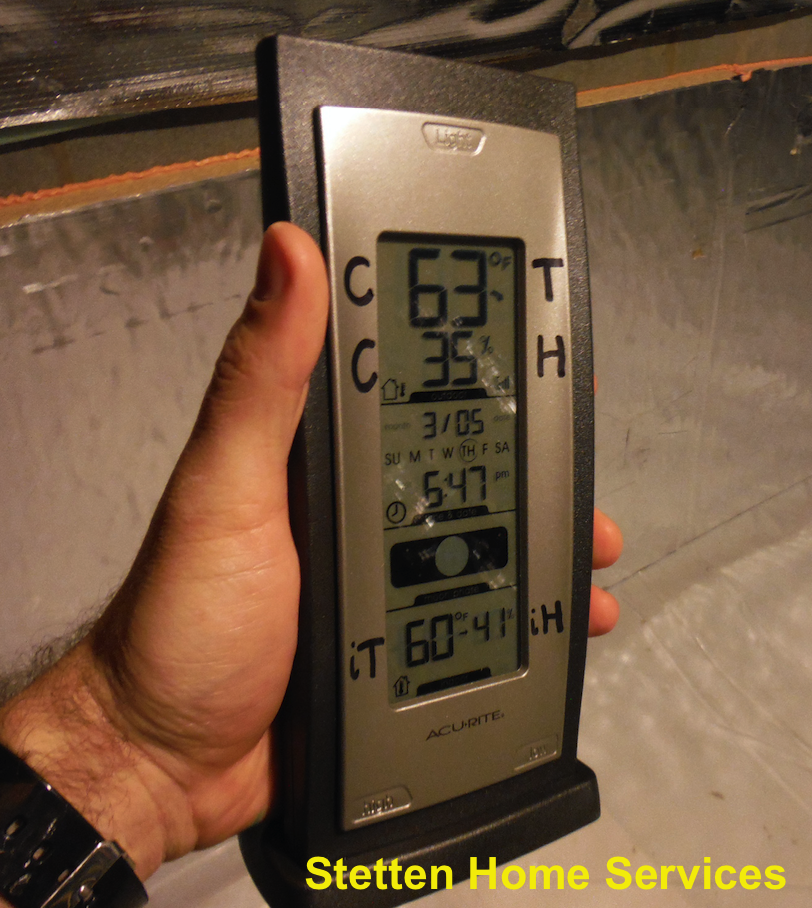 All clients must text a photo of their HUMIDITY MONITOR base-station, preferably with the thermostat also visible and also legible, with the relative humidity reading being above 72%RH and the DATE/TIME on the monitor should be correct like a "time-stamp". At that point we begin to work with you, try things to help better utilize the existing equipment, contact other homeowners with similar circumstances to see how they are doing, and consult you on how to understand the severity of the humidity and how to counteract it, and we should be able to get you out of the risky conditions "before the days are up" on the chart's "days to mold" column.
A sealed crawlspace is not "water-proofing". A sealed crawlspace does not stop bulk moisture intrusion but it does mask the humidity of excessive ambient and ground moisture so that your wood structure is not vulnerable to topical biological growth and insulation is not destroyed.
A sealed crawlspace is not a substitute for proper door or deck flashing. We have no responsibility to deal with water intrusion but we do our best to make your crawlspace resistant to it.
A sealed crawlspace can be dry for 10 years and the rain like we got in summer and fall of 2018 will raise the water-table high enough to flood it or create a large puddle throughout. Trees that soak up hundreds of thousands of gallons of water per year die. When this happens it is unfortunate and we will certainly help if you would like, but in general our goals are still accomplished with respect to the overall humidity levels and the wood moisture content, even when puddles do form due to bulk water intrusion.
Our HUMIDITY GUARANTEE is that we will work with you to achieve a crawlspace environment that on average is "no risk". When we do have an unfortunate bump in crawlspace humidity that shows up as "risk" on the chart, more than 9 out of 10 times the indoor humidity is also a problem as the occupant or thermostat has not activated the air-handler for enough hours recently and the humidity is up substantially. Often there is an HVAC problem and our installed "drying mechanism" is working fine but the hvac is not. There is a general recommendation to keep your indoor humidity around 50%. Once when we came out the new air filter was still in the bag! Another time the system was off, and they had been relying solely on the upstairs system for cooling the entire house down. The solution was simply to turn the downstairs fan to ON so that the cold air on the first floor would be introduced to the crawlspace and in 12 hours the humidity in the crawlspace had dropped 12%.
When we install a dehumidifier we do not warranty that device past 1 year. When we install a "booster-fan" we do not warranty that device past 1 year. What we do do is, often at additional cost to the owner, work with them to replace the failed parts, alter the controls, in order to achieve the results we are all looking for.
THE MOST IMPORTANT PART OF OUR GUARANTEE IS OUR PROMISE THAT WE WANT YOU TO BE HEALTHY, HAPPY, COMFORTABLE AND CONFIDENT IN YOUR HOME MORE THAN WE WANT TO MAKE A PROFIT, AND WE VALUE YOUR TIME. WE WANT TO TAKE CARE OF YOU &FOR YOU TO LEAVE US GOOD REVIEWS, AND UPDATE THOSE REVIEWS OVER THE YEARS. YOU CAN REST ASSURED THAT STETTEN HOME SERVICES WILL HELP YOU AS MUCH AS POSSIBLE, AND THAT WE PROMISE TO PROVIDE CONTINUED SERVICE THROUGH THE GOOD TIMES AND THE BAD.