Roofing
It might come as no surprise that roofing is more complicated than it seems. In new construction, even in 2016, the roofing contractor is often screwed before he starts,  because their work occurs "on"  sub-par work that happened after they price their work. Many Building Contractors reinforce this fault by prioritizing price and failing to consider quality. I still haven't met a builder who would understand, or even care, because if anything happens to leak, he directs his client to the roofing contractor, who can point his finger at the roofing manufacturer. If a roof fails to last as long as it should, the framing(installed prior) and trim(installed after the shingles) and sequencing are often the culprit.
Roofing Critical Details
Work by others:
You see, over the years layers of trim are added, and the roof decking falls way short. There is no way to fix this "NEW ROOF" other than ripping it off and re-decking the entire perimeter so that it overhangs the rafter edges and tails generously.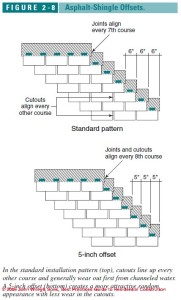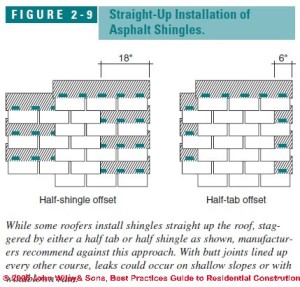 The most common installation in NC is the "half-tab offset" even for nicer "architectural shingles", because it is the easiest and fastest method for installation. Often the installation of half-tab-offset and the "short decking epidemic" means that half of the roofing material within 6″ of the gable-end is nothing more than half-tabs with one nail in them each, and that nails is over 3″ from the edge of the shingle. With "short-decking" there is always an increased likelihood of leaks around the perimeter of the roof allowing for wind-driven rain to get under the shingle, long before the shingles themselves begin to fail. Flopping and flapping related to short-decking has been known to reduce the lifespan of shingles too. Short-decking also causes the gable end shingles to be inclined on the edge and depressed 3″ in from the edge, essentially causing the water to run down a slight valley where there is no decking or tar-paper beneath it.