First Floor Framing
Floor Framing – Lesson Number 1
NO PARALLEL FLOOR JOISTS WITHIN 48" OF PERIMETER WALLS
ESPECIALLY UNDER KITCHENS, BATHROOMS, and HEAVY FURNITURE
The diagonal strategy is 4 times more likely to be durable and serviceable
but in some cases could bring the cost or obstacle of an additional intermediate pier .
In the above diagram, you would ideally replicate the strategy on the left, on the right as well.
The only time you would allow the joists to remain parallel is you knew you were NOT installing
heavy furniture or cabinetry, and you intend to install radiant floor heating under the home.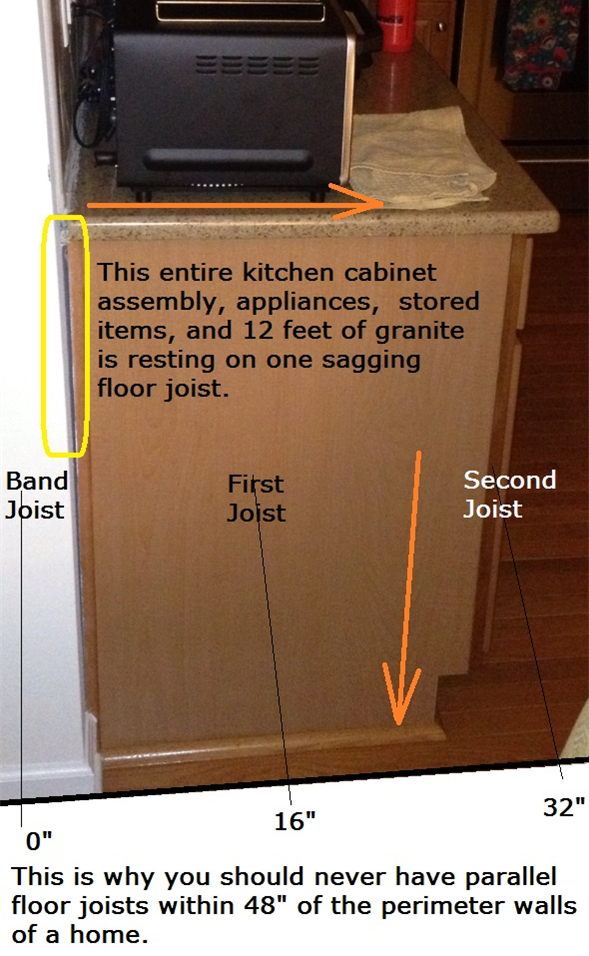 In the above photo, the oak flooring has a hump exactly where you stand when you are washing dishes, and if you jump up and down the WHOLE HOUSE MOVES. There are nail pops in the ceiling below this kitchen, and there is broken grout throughout the bathroom above this kitchen. This photo was taken in a 10 year old LENNAR home and EVERY one of 75 of these LUXURY TOWNHOMES has the EXACT SAME ISSUE.
Now that we have addressed the biggest problem with floor framing, and wall framing is pretty straight forward,
we should move on to ROOFING ISSUES plaguing even brand new custom homes.
Here is a link to ROOFING CRITICAL DETAILS: https://energyhandyman.com/critical-details/roofing/