Do you have all your Ducks-in-a-Row? All ducts need to be sealed, especially those that are located in a vented attic or vented crawlspace. The pros at Stetten Home Services have been sealing duct-work since 2006 or prior. Often "Duct-Sealing" is not a stand-alone service, rather it is lumped together with a more involved weatherization process.
Most production homes have sealed ducts if they were built in the last few years. If your home was built prior to 2005, your ducts are most likely leaking.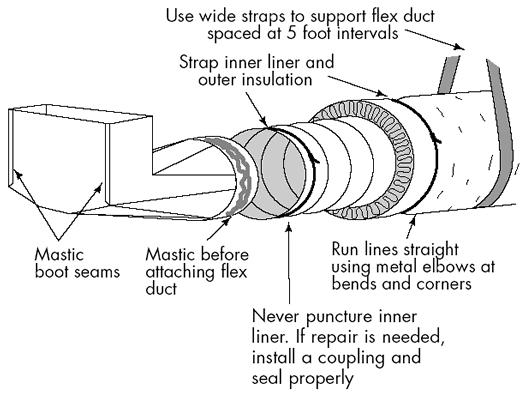 One thing to understand about leaky ducts in vented attics and vented crawlspaces, is that they cause the house to leak "double-time". If your system can move 1000CFM (Cubic Feet per Minute) and it leaks 10% or 100CFM into the attic, then another 100CFM must leak into the building from other openings in the envelope, bringing the total loss to 200CFM or 20%. Many old duct-systems leak "20-40%" and we aim to reduce that leakage to <3%! We often convert the vented attics and crawlspaces of older homes into sealed spaces where the ducts are now inside the conditioned envelope. This effectively reduces the leakage to 0%!!! It is still recommended to have sealed ducts when they are located inside the envelope but more so for health/safety reasons than energy savings.